Everton season on knife edge as Bournemouth repeat a must this weekend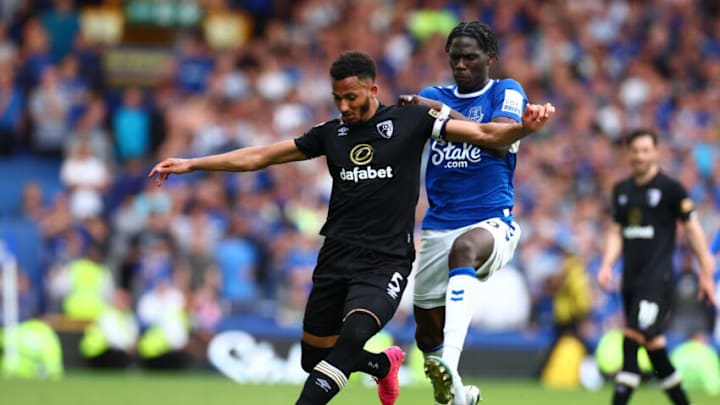 LIVERPOOL, ENGLAND - MAY 28: Lloyd Kelly of AFC Bournemouth competes with Amadou Onana of Everton during the Premier League match between Everton FC and AFC Bournemouth at Goodison Park on May 28, 2023 in Liverpool, United Kingdom. (Photo by Chris Brunskill/Fantasista/Getty Images) /
Following a terrible defeat at the hands of lowly Luton Town last Saturday, Everton simply have to perform and must win against Bournemouth this weekend to have hope of recovering their season.
It may seem too early to be saying this but another loss at Goodison Park to the Cherries cannot be countanenced and would surely mean Sean Dyche continuing as manager is basically untenable.
The problem is can anyone see a way in which Dyche would be removed? And, defeat plus yet another managerial crisis would leave the Blues campaign in tatters.
There is still huge uncertainty about the club's future and whether American group 777 Partners will be able to take over at some point in the near future after their agreement with Farhad Moshiri to do so. And, whether that is even a desirable thing itself.
This lack of certainty at the top is very disconcerting and destabalising and leaves the club in a sort of limbo with no one sure who is making decisions now.
It seems very unlikely that Moshiri, who is obviously itching to get out of this toxic situation, will be bothered to remove another manager, even if he can financially afford to do so which is also uncertain.
Anyway, regardless of all that, Everton just need a repeat of the last time they hosted the Cherries in the final match of last season when they won by a single Abdoulaye Doucoure goal to secure Premier League survival.
That wouold at least finally end this horrendous and ridiculous run of defeats at home and give some renewed hope that the team can turn things around.
So, how should the players line up for what is yet another of those crunch 'must-win' matches that have come along far too frequently in recent seasons?
Most of all I think Dyche must select a side that is geared to winning the game rather than just not to lose it, regardless of exactly how they line up.
He cannot replicate the negative mindset that we saw last weekend when he went back to his 4-5-1 formation after much more positive performances just a few days before at Brentford and Aston Villa.
That means picking attacking players like Jack Harrison and Arnaut Danjuma and giving his centre-forward, whether that is Dominic Calvert-Lewin or Beto – as I can't see him picking the two to play together – adequate support up front.
Tactically, the Toffees need to show commitment to taking control of the match, attacking and pressing their opponents rather than take a defensive, cautious posture. This is a must on Saturday.
Another loss at the Grand Old Lady is unimaginable and would put the whole season in serious doubt. Would Everton be able to recover?